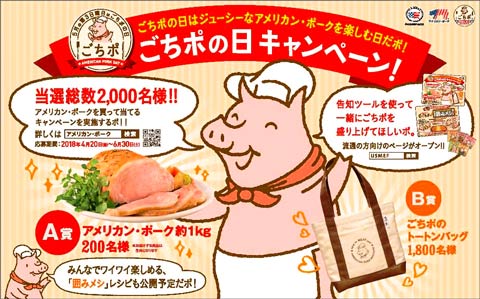 The U.S. pork campaign includes "Gochipo Day," which is held every 
year in Japan on the third Sunday of May.
USMEF kicked off a new campaign in Japan to encourage greater consumption of U.S. pork, hosting media representatives and food bloggers at "Pork Pork Pork Negopo," a pork specialty restaurant in Tokyo serving wheat-fed Idaho pork. Funded by the Pork Checkoff and the Illinois Soybean Association, the event featured well-known Japanese cooking instructor Rika Yukimasa preparing U.S. pork shabu-shabu using low-temperature cooking methods.
USMEF President and CEO Dan Halstrom participated in the kickoff by giving opening remarks and answering questions from participants about the attributes and advantages of U.S. pork. This resulted in several positive media reports in publications such as Shokuniku Sangyo Tsushin and Chikusan Nippo (both are trade journals), Shokuhin Shogyo (a food industry magazine), Gaishoku Newspaper (a foodservice newspaper), Shokuraku (a food industry magazine), Glow (a female lifestyle magazine) and Buono (a cooking magazine that targets men).
The restaurant served more than 40 writers, bloggers and photographers popular dishes made with U.S. pork, including white pork cutlet and juicy tonteki (pork steak).
"Through this particular campaign, USMEF will highlight the low-temperature method as a way for chefs to enhance the flavor and tastiness of U.S. pork in a number of dishes," said Takemichi Yamashoji, USMEF director in Japan. "The goal is to reach more Japanese consumers and encourage restaurants and foodservice companies to offer these types of menu items. Many of the writers and bloggers at this event were tasting these dishes for the first time. The response was very positive, and we expect these encouraging words to spread."
The ongoing U.S. pork campaign will also involve USMEF suggesting "Kakomi-meshi" as a new way to enjoy U.S. pork dishes with family and friends.
"Kakomi means 'sitting-around-a-table style,' and we are recommending these groups get together and enjoy U.S. pork and vegetables cooked on an electric griddle," explained Yamashoji. "The party-like Kakomi-meshi menus are very photogenic, and consumers like to post images of these food gatherings on social media."
USMEF has produced four varieties of Kakomi-meshi menus, including "Korean-style Cheese Teji Karubi," which is becoming popular among Japanese consumers and is capturing the attention of supermarket customers in Japan.
Meanwhile, USMEF continues to create awareness of U.S. pork in Japan through the mascot "Gochipo." The third Sunday of May has been established as "Gochipo Day," and leading up to this special day USMEF worked with 2,500 retailers throughout Japan to offer contests and prizes to consumers. About 2,000 people who have purchased U.S. pork at participating supermarkets and applied for campaign prizes will win thick-cut U.S. pork or Gochipo tote bags.
U.S. Pork Campaign in Japan Highlights Low-Temperature Cooking